Born in Spain, Farah moved to South Africa in 2004 where she started learning the basic techniques
of pottery. After a couple years with informal lessons from various Cape Town potters she rented
out a space at John Bauer's studio. Soon she became fascinated with porcelain and started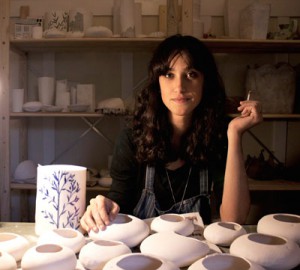 experimenting with this medium on her own.
It was only in mid 2011, after working in various creative fields, that she finally established her own
studio. Since then, Farah has developed a unique style that is elegant and delicate yet contemporary
and light hearted.
In her current work, she uses porcelain as a canvas, creating once-off pieces where the emphasis
is placed on the illustration work. Leaving the shapes simple and clean, she creates intricate hand
painted designs following patterns that evolve into shapes and landscapes.
Her work also plays with fine textures, partly glazing her pieces and treating the rest of the surface
with soft sandpaper for a smooth yet raw feel.
Staying true to the porcelain tradition of 'blue on white', her entire 2012-2013 collection is done
using blue as her only colour, but she reinterprets this classic with her use of patterned designs
and 'doodle' like drawings.
Her pieces are mostly functional and they range from paper thin vases and framed porcelain
illustrations to hanging and wall planters were she combines her three loves: illustration, porcelain
and plants.  All pieces are commissioned based.
Click here to contact me about commission enquiries.